Biography - Charlotte Cadrain
21 years of practice working in downtown Calgary, now offering excellent and more affordable dental hygiene and teeth whitening from my home clinic on Tecumseh Road, Calgary.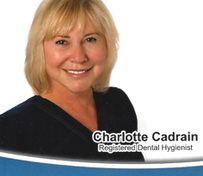 I graduated from the University of Alberta in 1992. I am a member of good standing of both the College of Registered Dental Hygienist of Alberta and the Canadian Dental Hygiene Association.

My professional focus is to help people and promote health wellness through the provision of dental hygiene care. I am current with my CPR and have received training and certification to administer local anesthesia. I also offer needle free anesthesia.

On November 1, 2006 changes to the Health Professions Act enabled dental hygienists to operate a private practice independent of dentists. The freedom to promote and deliver a unique home based service coupled with a genuine concern for patient care is behind the Sparkling Brite Smiles concept.

I look forward to sharing this unique experience with you!
---