Treatments Provided by: Charlotte

Sparkling Brite Smiles offers:
Dental Hygiene Exams
Professional Teeth Cleaning: Removal of Plaque Biofilm, Calculus (Tartar) and Stain Polishing & Desensitizing
Consultation and Second Opinions
Local and Needle Free Anaesthesia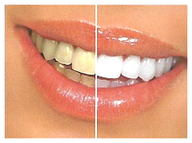 Sparkling Brite Smiles
also offers
in office
and
take home
teeth whitening services. There are many possible causes of tooth discoloration, including aging, and the consumption of staining substances such as tea, coffee, and red wine. The system used at
Sparkling Brite Smiles
for whitening is only available through licensed dental providers.
---
Referrals are also given for more specified needs.